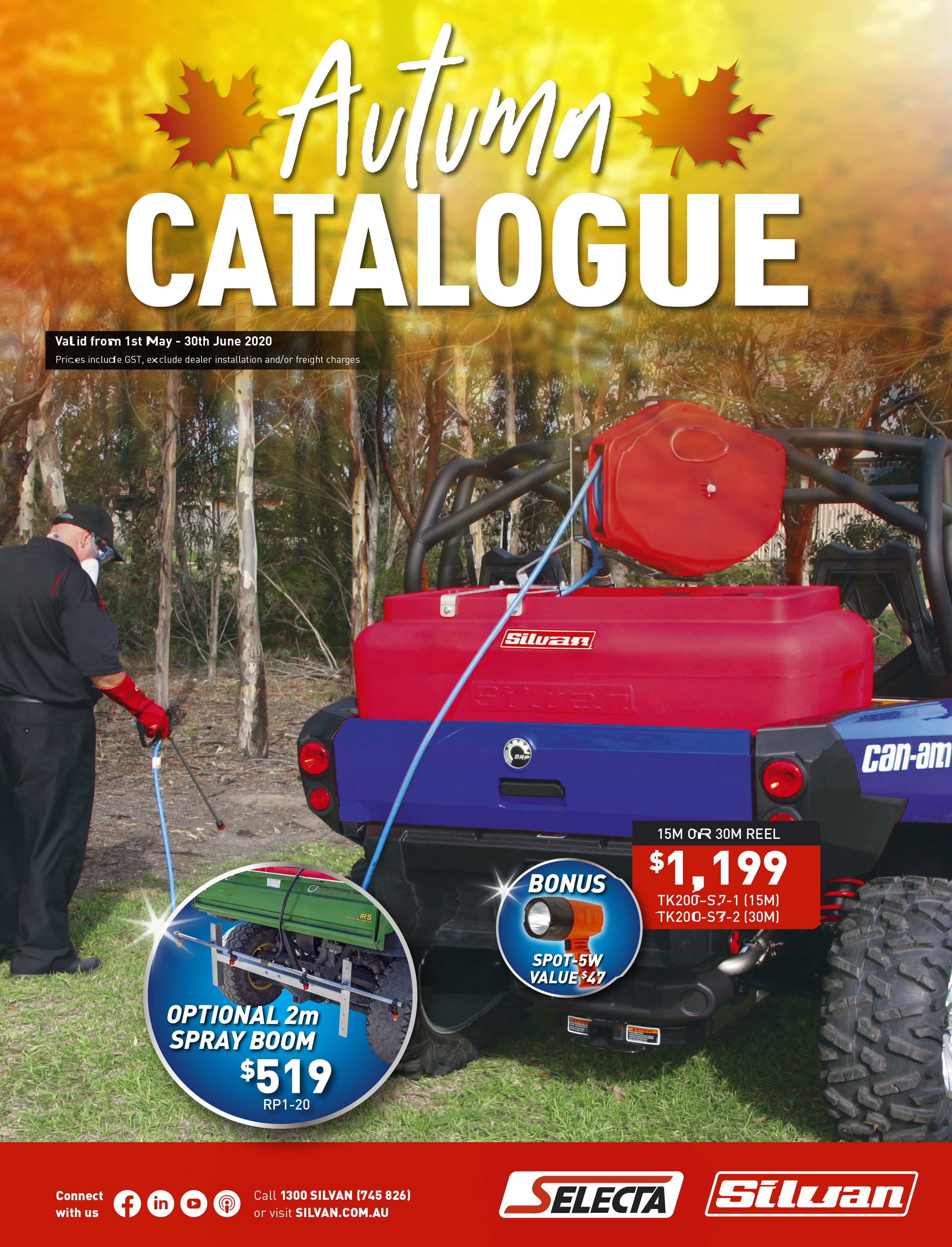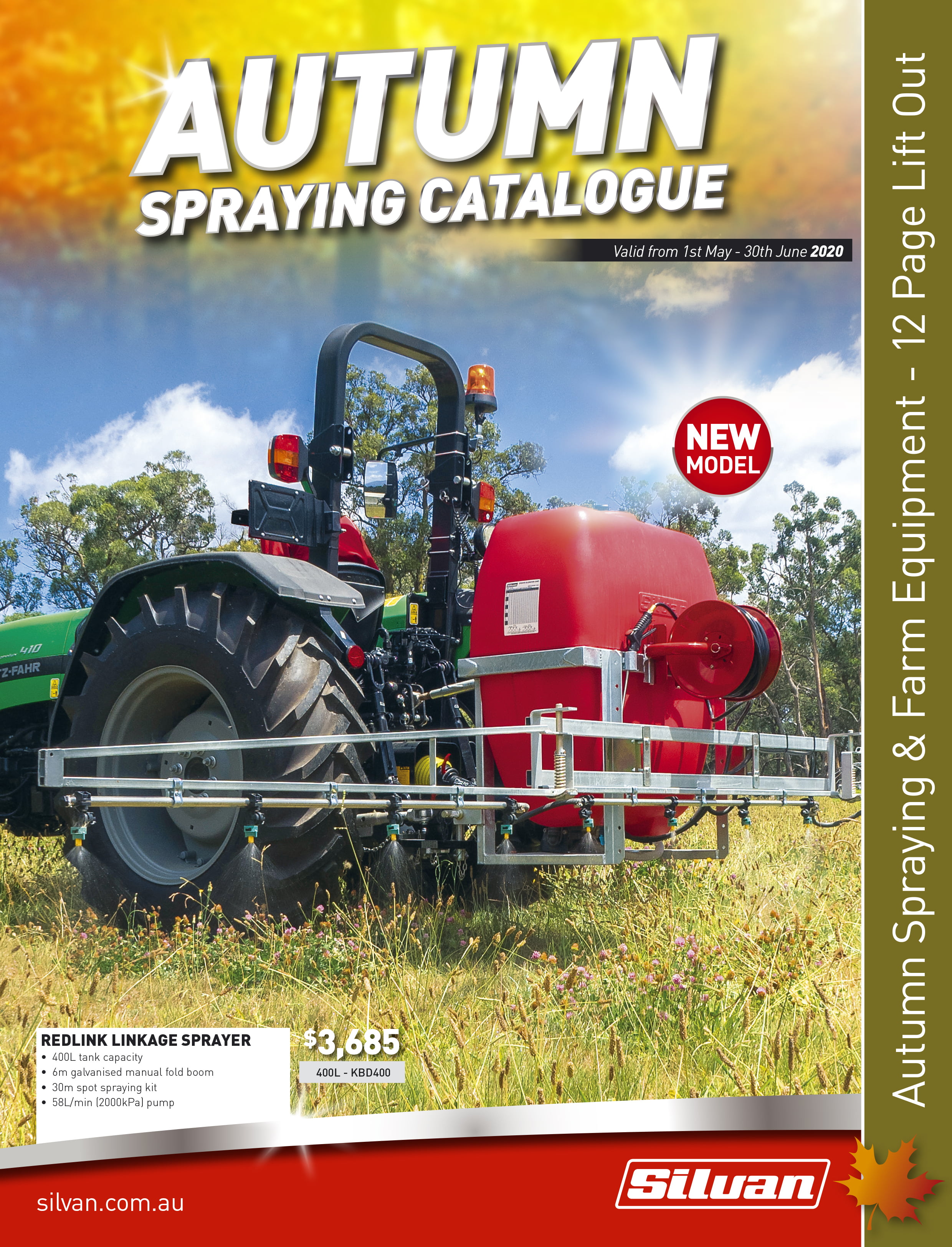 Farmer optimism has largely rebounded following late summer rainfall in many regions around the country, previously suffering from a prolonged drought, and strong commodity prices.
Accordingly, rural sentiment is back to its highest level in nearly five years, the latest quarterly Rabobank rural confidence survey has found.
Meeting the needs of farmers preparing for winter, agricultural spraying specialist Silvan Australia has focused on sprayers, associated pump equipment, diesel transfer units and storage tanks, workshop equipment and its new dump cart range in its latest 16-page autumn catalogue.
A 12-page lift-out inside centres on the latest spraying equipment, designed primarily for pest and weed control on broadacre and horticultural farms; Sitrex hayrakes, DCM and Silvan fertiliser spreaders, slashers and mowers, Breviglieri rotary hoes and power harrows and Nobili mulchers.
A range of sprayers are highlighted in the outer catalogue starting with a Prograde five litre handheld model sprayer for $69,   to backpack and trolley units and larger sprayers suited for carrying on a utility task vehicle (UTV) or side by side up to a 600 litre skid sprayer with twin hose reel for $14,590, which fits on the back of a ute.
Also featured are a range of pumps most for retrofitting to sprayers starting with a 2.6 litre 12V Pakpump for $133 to the BP60/20 motorised unit for $2750.
Farm security products are featured as well including a range of outdoor lighting and motion activated security cameras as well as workshop equipment.
Among the new products included is the Selecta dump cart range, which are ideally suited fitted to UTVs, ATVs and ride on mowers, from the poly, 450kg capacity model for $649 to the heavy duty 570kg capacity steel mesh unit for $829.
Silvan general manager rural merchandise, Michael Frost said the three big product ranges included in the catalogue were Selecta diesel fuel transfer units; sprayers powered by 12-volt pumps as well as handheld sprayers.
Mr Frost said the diesel fuel transfer units and storage options extended from 100 to 2200 litre tanks complete with 12V pumps. They were ideal for fitting into the back of a ute or for on-farm storage.
Spraying tanks sizes ranging in capacity from 25 to 600 litres also come equipped with a 12V pump, hose and spray gun with adjustable nozzle.
A range of optional hose reels, spray booms and boomless nozzles were also readily available to suit your spraying requirements, he said.
Mr Frost said the large range of handheld, backpack and manual sprayers were proving popular for disinfecting and cleaning equipment and surfaces as well as smaller pest and weed spraying jobs.
One of the key products, featured on the front page of the lift-out, is the new model Silvan Redlink, a tractor mounted sprayer designed for broadacre and spot spraying applications.
Spraying and machinery general manager Gavin Wheatcroft said the sprayer was the latest addition to Silvan's linkage sprayer range as an economical boom and spot sprayer.
Retailing for $3685, it has a 400 litre tank capacity with a six metre galvanised boom. The sprayer comes with a 30 metre hose reel and spray gun for hand spraying.
The range extends up to the 1900 litre capacity linkage horticultural sprayer, which sells for $46,200. Top of the line among the pasture sprayers is the 2500 litre trailed unit at $44,550.
Also featured in the lift-out section are a range of DCM and Silvan fertiliser spreaders tarting from the new model 110 litre ATV spreader, which is ideal for sporting grounds, priced at $1639. A new release 60 litre ATV spreader for $99 is featured in the main catalogue.
At the top of the line is the 4200 litre MX range broadacre spreader, which retails for $35,594.
Mr Wheatcroft said Silvan had also added a new compact trailed fertiliser spreader to its range.
"The 110 litre R150 spreader is ground driven and designed for spreading fertiliser on sporting fields, lawn and pasture. It is ideal for towing behind compact tractors, side by side vehicles or ride on mowers."
Special offers apply to many of the sprayers and fertiliser spreaders. Price reductions also apply on Nobili mulchers, Breviglieri rotary hoes and Sitrex hay rakes.
The Silvan Autumn Catalogue is on sale until 30th June 2020, for a copy click here.
To find your local Dealer, click here or alternatively call SILVAN (1300 745 826) or email [email protected]